Last week, rather quietly, Andy Walker relaunched the massive tech resource site CyberWalker.com! His own baby, the site had previously been a massive library and reference for technology tips, tricks, how-tos, guides, links to other articles and technical information, all ranging in topics from the Macintosh to Windows, from Linux to networks, from securing your computer to building a new one, from backing up your data to choosing the best formats for backing up your data. The site was massive and expansive, and, according to Andy, needed a refresh to make it easier to get around and to keep it up to snuff.
Well, the site definitely got that refresh! Check out the new digs below (click the image for a larger view):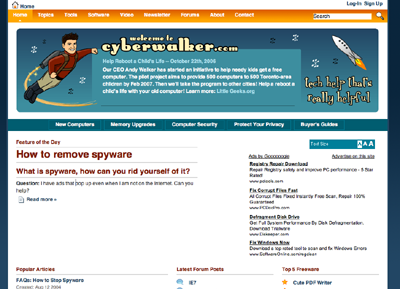 The site has navigable buttons everywhere-breaking down the multitude of content from tools to the Lab Rats video to the software library all at the top of the page. In the middle of the page, you'll find links taking you directly to computer security topics, protecting your privacy online, tips to help you buy a new computer, what to do with that new computer, and more! Definitely head over and take a look at the site, it looks solid.
The new site looks gorgeous, Andy! Great work!