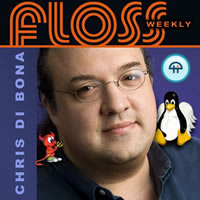 A brand new podcast has hit the streets! Remember back when we broke the news that a new podcast with Chris DiBona was in the works? Looks like they went ahead and decided to call it FLOSS Weekly, which will cover all things open source, chat with the open source community and stay in touch with the great technology and tech news that's going on in the open-source world; and there's no better host for all of that than regular Screen Savers guest host Chris Dibona, who used to visit and talk open-source on the show pretty often. From the episode notes:
Meet our host, Chris DiBona, a long-time open source advocate, former editor at Slashdot and founder of Damage Studios, he is now the Open Source Programs Manager at Google. On this episode we get to know Chris and hear about his plans for FLOSS Weekly.
Sounds good to me! We'll be covering this one too, so make sure to check back for more information!
FLOSS Weekly Episode 1 // April 7. 2006
[ episode notess | download ]