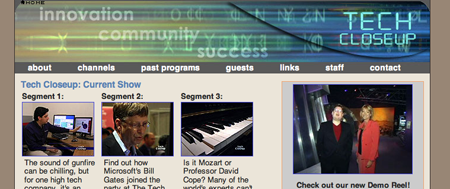 Good news on the Tech Closeup front, and for everyone who wants to see more technology programming on television!
Marc Levenson, who I had the pleasure of speaking with about his new show, Tech Closeup, a few weeks back, dropped me a line yesterday to give me some great news to share!
Tech Closeup has received initial clearances on stations in Philadelphia, Boston, Washington D.C., Dallas, Toledo, and Flint. Our syndicator is negotiating with several group station owners (Sinclair, Fox, Clear Channel, etc.) so Tech Closeup's "reach" will grow significantly in the next few weeks. I'll keep you informed. We're on a march to at least 60-per cent of the nation's TV markets for national launch in September of 2007!
Wonderful news! We'll keep everyone here up to speed with all the information that we get, and we're hoping to, by this time next year, have another show to tune into regularly! Keep an eye on your local listings, and we'll be in touch with more information!
In the meantime though, head over to the Tech Closeup website for more info and updates!
[ TechCloseup.com ]