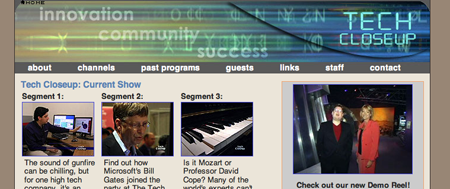 If you're new to the whole Tech Closeup story we've been following, check out our previous updates:
[ Marc Levenson's New Show :: Tech Closeup! ]
[ Tech Closeup Update from Marc Levneson! ]
We just received exciting news from Marc Levenson regarding the future of his show, Tech Closeup, slated to air on major networks later this year:
Here's a little update: Tech Closeup has been cleared to air in St. Louis, Washington D.C., Tampa, Nashville, Dayton, Saginaw, Shreveport, Huntsville, Spokane, Springfield Mo., Tallahassee and Yakima Wa. We're also cleared in San Juan and The U.S. Virgin Islands. By the end of May, our syndicator expects we'll be cleared in a minimum of 35 TV markets for our initial rollout in September. The show has been reformatted for commercial broadcast and the feedback has been wonderful. I'll have more as we get closer to our airdate. Stay tuned!
We're getting closer, and personally, my being in the Washington DC area never looked better for bringing quality technology programming back to the airwaves. We're looking forward to it, Marc!
[ TechCloseup.com ]