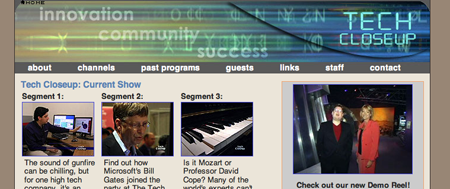 If you're new to Tech Closeup and don't know what this is all about, check out the backstory first:
[ Tech Closeup with Marc Levenson…Coming Soon to a TV Near You! ]
[ Tech Closeup Update from Marc Levenson ]
[ Marc Levenson's New Show :: Tech Closeup! ]
Marc Levenson just provided us with another exciting update, and it looks like Tech Closeup will be available in even more venues than previously thought! Here's the scoop, straight from Marc:
It seems there's a lot of demand out there for fun, easy to follow science and technology programming aimed at the average non-scientific layman. Tech Closeup has increased its broadcast clearances to include some dominant major markets. We've got commitments now in San Diego (Fox), Sacramento (ABC), as well as Detroit, Tampa, Washington D.C., St. Louis, Salt Lake City, Nashville, Dayton, Saginaw, and at least ten other cities. We're expecting at least ten to fifteen more markets to commit by the time Tech Closeup launches in September. Stay tuned!
That's great news, not just for the old TechTV fan crowd, but for anyone who's eager to see good, comprehensive, intelligent, and fun technology programming on television. A lot of the old TechTV heads simply don't think it's possible to be successful on mainstream television when talking about technology, but it looks like there's more than one way to bring tech to the small screen! Good job Marc, we'll be looking forward to seeing you on our TV screens!
[ TechCloseup.com ]
Check out the full press release announcing Tech Closeup's pending arrival below the jump!
Tech Closeup Closes in on Syndication
(San Mateo, Ca. -May 25, 2007)

You might call Tech Closeup "the little TV show that could." It started two years ago as just a monthly series on Bay Area Public Access stations—where almost anybody can put on their own show that almost nobody will watch. But somebody must be watching Tech Closeup, and it's upbeat and classy profiles of Silicon Valley technologies, researchers, and sci-tech advances. Because Tech Closeup is about to make a big national splash.

Two and a half years after it began as the only program on California TV that covers the full scope of the technology industry, Tech Closeup (www.techcloseup.com) is now close to national syndication. Through its Chicago syndication service, Showplace Broadcasting, Tech Closeup launches as a weekly series in September in major markets. A full-length promotional demo reel drew enthusiastic commitments from stations in cities that include Sacramento, San Diego, Tampa, Washington D.C., Detroit, St. Louis, Nashville, Salt Lake City, Dayton, Spokane, Huntsville and Shreveport. By launch date in September, Showplace Broadcasting expects Tech Closeup to air in a minimum of thirty five major cities. According to Jack Trammell, CEO of the TV production service VNR-1, "Thirty Five stations are outstanding for first-season syndication programming." Trammell says the speed of Tech Closeup's acquisition of partner stations is "way ahead of the curve."

Tech Closeup is co-hosted by Marc Levenson, a 3-time Emmy Winning science and technology correspondent who's been seen on Tech TV, CBS, CNN, and New Jersey Public Television, and Cristina King, former anchor for the NBC station in Springfield, Missouri and winner of the prestigious Edward R. Murrow award. They team up in a format that's sort of like hi technology's version of "Entertainment Tonight." Their stories are fast-paced, fun, and easy to follow. "People fear what they don't understand. That's why science and technology programming appeals to the geeks, but drives most lay people to change the channel," says Levenson. "So we produce our stories with lots of colorful metaphor that makes it easy for anybody to understand."

They cover all facets of technology—not just the consumer products that people buy for their homes and their cars, but the newest advances in micro-electronics and surgical technology that could change life tomorrow. In a recent show, one of Levenson's segments explained something that football fans always want to know—how do they paint the yellow first down line on TV so that it looks like it's on the field? "We went to Sportvision in Sunnyvale where computer science meets the sports fan," said Levenson. "The technology that makes the first down line, the baseball strike zone, or makes it easy for racing fans to follow their favorite driver all comes down to some nifty video magic in the Silicon Valley."

For Cristina King, the real fun is covering the personal stories of some of the industry's most passionate players. "We meet some really engaging and fun people," says King. "They really make this show what it is. And because of them, it's not boring pocket protector stuff."

Tech Closeup also features contributions from noted industry expert Rob Enderle, who shares tips and pointers about the latest fads in computers and consumer technology products. Between segments, Levenson and King quiz people on the street about their tech knowledge. The answers may solve some common questions like, "what's the F5 key for on my keyboard?," or they'll help take the terror out of the expression "What's the blue screen of death?" That question helped Cristina King educate a hot dog vendor in San Jose. "He got a kick out of it. But now he knows what it means when your Windows computer screen freezes and goes blue."

In Northern and Central California, Tech Closeup is currently seen on Comcast Cable's HomeTown Network channels at 4:30 on Saturday afternoons.