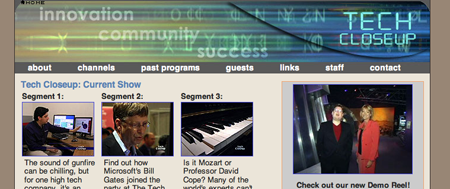 Marc Levenson, 3-time Emmy Award winning science and technology correspondant and all around awesome guy, just provided us with another update on his new segment going into syndication, Tech Closeup!
The show will be going into syndication in multiple major markets this week, and he's even provided us with a promo video that will show you what the show is all about that you'll probably see on your local channels. If you'll remember, Marc was a familiar face on TechTV in the good old days, and has been steady at work bringing real technology programming and content back to mainstream television.
Great job Marc, and we all look forward to seeing Tech Closeup on television very very soon!
Check out the promo video and visit the Tech Closeup homepage here:
[ Tech Closeup Promo Video | TechCloseup.com ]
If you're new to Tech Closeup and don't know what this is all about, check out the backstory:
[ Tech Closeup with Marc Levenson Update! ]
[ Tech Closeup with Marc Levenson…Coming Soon to a TV Near You! ]
[ Tech Closeup Update from Marc Levenson ]
[ Marc Levenson's New Show :: Tech Closeup! ]